Calgary, Alberta--(Newsfile Corp. - September 11, 2023) - Cassiar Gold Corp. (TSXV: GLDC) (OTCQX: CGLCF) ("Cassiar Gold" or the "Company") is pleased to provide an exploration program update at its flagship Cassiar Gold Project in northern British Columbia, Canada.
Highlights:
Drill campaign progressing with over 14,500 metres completed, with initial results received and to be released shortly.

11,465 m of drilling has been completed at Cassiar North, including:

8,367 m of drilling completed at the Taurus Deposit in the Cassiar North area, comprising 15 step-out drill holes, 5 infill holes, with an additional 5 holes testing both infill and expansion targets.
3,098 m of drilling in 10 drill holes completed at priority outlying targets including the Wings Canyon and Newcoast targets.

3,199 m of drilling have been completed at Cassiar South in 8 step out and exploration holes near the Main Mine and Bain target areas.

Data collection phase of an induced polarization survey has been completed in the Cassiar North area.
Field mapping and sampling has been completed over a 30 km2 area containing target areas that include Newcoast, Wings Canyon, Elan, Snow Creek, and Lucky prospects.
Soil sample collection completed with grid coverage from east of historical Taurus Mine to the Snow Creek prospect.
"Our 2023 exploration campaign has maintained strong momentum in the continued evaluation of the expansion potential of the Taurus Deposit, while also advancing our ongoing property-wide exploration for new areas of mineralization on the extensive Cassiar land package," stated Marco Roque, President and Chief Executive Officer. "We look forward to sharing the results of this work as the program is completed and data is received and interpreted."
2023 Drill Program Overview
The Company's 2023 drill campaign, which commenced on June 1st, remains ongoing with active drilling at the Lucky prospect in the Cassiar North area, which is projected to conclude this fall. The program will consist of approximately 50 drill holes at both the Cassiar North and Cassiar South project areas including brownfields and regional targets within the 59,000-hectare land package. Forty-three of the planned holes have now been completed. In addition to the drilling, the company has recently completed geological mapping and sampling, a soil survey and IP over prospective areas in the northern Cassiar property which will form a basis for the future drill targeting of priority target areas.
Cassiar North project area - Taurus Deposit
The Taurus Deposit hosts a substantial near-surface, bulk-tonnage, and pit-constrained inferred gold resource of 1.4 million ounces grading 1.14 g/t Au1. Drill holes were designed to outline extensions of mineralization that expand the deposit footprint and to further define mineralization continuity. The deposit remains open in all lateral directions as well as at depth.
To date, a total of 25 drill holes totalling 8,367 metres have been completed at the Taurus Deposit in 2023. Of the holes completed, 15 holes were step-out holes designed to expand the deposit laterally and at depth beyond the current footprint of the Taurus resource, five were infill holes designed to test continuity of mineralization between resource blocks in areas with widely spaced drilling, and an additional five drill holes were designed to both infill resource gaps at shallow depths while also evaluating expansion potential at depth.
Target areas tested include the Sable, Taurus West, Southwest, and East parts of the deposit (Figure 1). Additional drilling also tested a broad, gently SSE plunging higher grade mineralized shoot along the Taurus West Fault which carries high potential to contribute to near-term expansion of mineralization laterally and internal to the Taurus resource. Results are being received and will be disclosed as reviewed and interpreted.
Figure 1. Cassiar North 2023 drill campaign drill hole locations plan map of infill and expansion drilling at the Taurus deposit. Surface projection of the 2022 resource estimate >0.3 g/t Au grade shell is shown for reference (from Zelligan, Moors, Jolette 2022).
To view an enhanced version of this graphic, please visit:
https://images.newsfilecorp.com/files/2958/180178_c1e92a98841f7bc0_002full.jpg
Cassiar North project area - Outlying Targets
The 2023 campaign has prioritized a component of drill testing at high-priority outlying target areas within the Cassiar North project area. Many of the known target areas are broad in extent and may host mineralized trends that are blind at surface or that vary significantly in style with vertical extent, highlighting the importance of drilling early in their evaluation to aid in understanding the three-dimensional component of these target areas. Of these, the Wings Canyon, Newcoast and Lucky prospects have been further tested in 2023.
To-date 3,098 m over 8 drill holes have been completed in 2023 at the Wings Canyon and Newcoast targets. Wings Canyon is an area of intense iron-carbonate altered mafic volcanic rocks that lies to the southeast of, and is similar in character to the Taurus Deposit which remains open in most directions. Newcoast lies south of Taurus near the Stewart-Cassiar Highway and comprises a > 2 km long east-west corridor of with shallow and outcropping quartz veining, pyrite, and silica, sericite, and iron carbonate alteration which has been subject to limited historical drilling with samples exceeding 5 g/t Au2.
Figure 2. Cassiar North 2023 drill campaign drill hole locations plan map of exploration and expansion drilling (red dashed circles) relative to the Taurus deposit. Surface projection of the 2022 resource estimate >0.3 g/t Au grade shell is shown for reference (from Zelligan, Moors, Jolette 2022).
To view an enhanced version of this graphic, please visit:
https://images.newsfilecorp.com/files/2958/180178_c1e92a98841f7bc0_003full.jpg
Figure 3. Examples of east-west trending sheeted vein sets with gold-bearing iron carbonate and sericite alteration envelopes observed in outcrop from the Newcoast target area at Cassiar North.
To view an enhanced version of this graphic, please visit:
https://images.newsfilecorp.com/files/2958/180178_c1e92a98841f7bc0alt_004full.jpg
The Lucky target area contains numerous quartz veins and associated sulphide mineralization within an area of strong iron-carbonate altered mafic volcanics and listwanite with a coincident soil anomaly. Similar styles of mineralization as both the Taurus Deposit as well as shear veins similar in style to those at Cassiar South have been observed within this spatially extensive exploration target. This area of the Lucky prospect has not been subject to previous drilling. Two drill holes are planned in this area for an estimated total of 600 m, the first of which is currently in progress.
Figure 4. Current drill rig set up at the Lucky prospect in the Cassiar North project area.
To view an enhanced version of this graphic, please visit:
https://images.newsfilecorp.com/files/2958/180178_c1e92a98841f7bc0_006full.jpg
Cassiar South project area
The Cassiar South project area of the Cassiar Gold Property hosts numerous shear vein targets and several past-producing underground mines which have historically produced over 315,000 ounces of gold grading between 10 to 20 g/t Au3 from orogenic-style, high-grade gold veins with free gold.
The veins occur in mafic volcanic rocks stacked between low-angle listwanite-bearing thrust surfaces and lenses of fine-grained clastic sediments. There is potential to define: (1) stacked veins below known veins in mafic volcanic units of underlying thrust panels; (2) parallel vein sets beneath overlying sedimentary and listwanite units within thrust panels; (3) extensions of known vein systems.
A total of 8 holes and 3,199 m of drilling have been completed at multiple vein targets at the Cassiar South project area on Table Mountain with results pending in the following target locations (Figure 5):
Main Mine: Four drill holes have been completed for a total of 1,556 m drilled. These follow up on 2022 drill holes which encountered broad intercepts of anomalous gold mineralization associated with extensive carbonate-sericite alteration and high quartz vein density (see NEWS RELEASE, April 20, 2023). Similar broad zones of vein development occur proximal to or along strike from historically mined veins.
Bain Vein: Three drill holes were completed, for a total of 1,312 m drilled at the East Bain Extension, while one 331 m drill hole was completed at West Bain. Drill holes at East Bain Extension tested the eastward extension of a new offset segment of the Bain vein system identified during the 2022 drill campaign (see NEWS RELEASE, April 4, 2023), as well as potential for additional parallel vein sets. The West Bain drill hole targeted a gap in previous drilling along a linear VLF anomaly potentially indicative of additional vein segments.
Figure 5: Cassiar South 2023 Drill Campaign Drillhole Locations Map. Blue rectangles highlight drill hole collar and trace locations within target areas of interest. Historical production figures from April 2022 NI43-101 Technical Report on the Cassiar Gold Property, BC by Zelligan, Moors, and Jolette.
To view an enhanced version of this graphic, please visit:
https://images.newsfilecorp.com/files/2958/180178_c1e92a98841f7bc0_007full.jpg
Geophysics - Induced polarization survey
The data collection phase of an approximately 50 line-km induced polarization (IP) survey, conducted by Dias Geophysical, was completed at the Cassiar North project area over and surrounding the Taurus deposit and outlying target areas (Figure 6). Grid design includes 200 m line spacing and 50 m sample stations. Data processing is underway. The intent of the survey was to aid in the identification of mineralization-controlling faults and shear zones where rock types of different response or thickness are apparent, particularly with contrast across faults, and potential direct detection of pyritic mineralization such as is present within the Taurus Deposit.
Field Program - Mapping and surface sampling
The field data collection phase of a focused geological and structural mapping and sampling program was completed at Cassiar North overlapping with the area of the IP survey. Field crews mapped an approximated area of 30 km2 with over 300 surface grab samples submitted for fire assay, multi-element, as well as select whole rock geochemical analyses (Figure 6). Field data and pending assay results will be used to establish a surface and cross sectional geological interpretation to be integrated into targeting efforts and IP survey results with the intent to identify new areas for follow up in 2024. Interpretation and compilation are underway.
The sample collection phase of a soil survey grid was recently completed over an approximated 3 km2 area with 100 m line spacing and 50 m sample spacing (Figure 6). The survey was designed to enhanced surface geochemical data coverage in a highly prospective area of sparse outcrop exposure between the historical Taurus Mine and the Snow Creek prospect. This survey represents the potential eastern extensions of the Taurus and Wings Canyon mineralized corridor with coverage both downstream and up drainage from local placer operations overlapping the area of the 2023 mapping and IP survey.
Field work completed during the 2023 field program will directly contribute to the ongoing target development on the district scale property.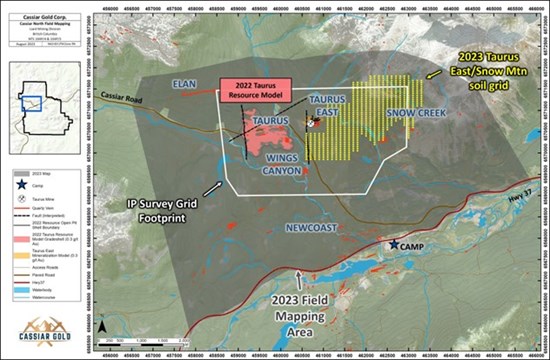 Figure 6. Map depicting location and extent of 2023 areas subject to field mapping/sampling, soil sampling, and geophysical (IP) data collection.
To view an enhanced version of this graphic, please visit:
https://images.newsfilecorp.com/files/2958/180178_c1e92a98841f7bc0_008full.jpg
Qualified Person
The technical information in this news release has been reviewed and approved by Jill Maxwell, P.Geo., Cassiar Gold Corp.'s VP Exploration, who is a Qualified Person as defined by National Instrument 43-101.
About Cassiar Gold Corp.
Cassiar Gold Corp. is a Canadian gold exploration company holding a 100% interest in its flagship Cassiar Gold Property located in British Columbia, Canada. The Cassiar Gold property spans 590 km2 and consists of two main project areas: Cassiar North, which hosts a NI 43-101-compliant inferred resource estimate of 1.4Moz at 1.14 g/t Au (cutoff grade of 0.5 g/t Au) known as the as the Taurus Deposit (see National Instrument 43-101 Technical report on the Cassiar Gold property, April 28, 2022, by S. Zelligan, J. Moors, C. Jolette, posted to SEDAR); and Cassiar South which hosts numerous gold showings, historical workings, and exploration prospects. Historical underground mines in the Cassiar South area have yielded over 315,000 oz of Au at average head grades of between 10 and 20 g/t Au (2022, Zelligan, Moors, Jolette), underscoring the high potential for further discovery and expansion of high-grade orogenic gold veins.
The Company also holds a 100% interest in the Sheep Creek gold camp located near Salmo, BC. The Sheep Creek gold district ranks as the third largest past-producing orogenic gold district in BC with historical gold production of 742,000 ounces gold at an average grade of 14.7 g/t gold from 1900 to 1951. Minimal exploration work has been conducted since the 1950s.
Cassiar Gold Corp. acknowledges, respects, and supports the rights of Traditional First Nations in the lands and communities where we operate.
CONTACT INFORMATION
Cassiar Gold Corp.
E-mail: This email address is being protected from spambots. You need JavaScript enabled to view it.
Phone: 236-878-6160
Forward-Looking Statements
This news release may contain forward-looking statements including those describing the Company's future plans and the expectations of management that a stated result or condition will occur. Any statement addressing future events or conditions necessarily involves inherent risk and uncertainty. Actual results can differ materially from those anticipated by management at the time of writing due to many factors, the majority of which are beyond the control of the Company and its management. In particular, this news release contains forward-looking statements pertaining, directly or indirectly, to the Company's exploration plans and work commitments, mineral resource estimates and the assumptions underlying such estimates, and economic factors, business and operations strategies.
Although the Company believes that the expectations and assumptions on which the forward-looking statements are based are reasonable, undue reliance should not be placed on the forward-looking statements because the Company can give no assurance that they will prove to be correct. Since forward-looking statements address future events and conditions, by their very nature they involve inherent risks and uncertainties, actual results could differ materially from those currently anticipated due to a number of factors and risks. These include, but are not limited to, general economic, market or business conditions, risks associated with the exploration and development industry in general (e.g., operational risks in development, exploration and production; the uncertainty of mineral resource estimates; the uncertainty of estimates and projections relating to production, costs and expenses, and health, safety and environmental risks), constraint in the availability of services, commodity price and exchange rate fluctuations, the current COVID-19 pandemic, changes in legislation impacting the mining industry, adverse weather conditions and uncertainties resulting from potential delays or changes in plans with respect to exploration or development projects or capital expenditures.
Readers are cautioned that the foregoing list of risk factors should not be construed as exhaustive. These statements speak only as of the date of this release or as of the date specified in the documents accompanying this release, as the case may be. The Company undertakes no obligation to publicly update or revise any forward-looking statements except as expressly required by applicable securities laws.
Neither the TSX Venture Exchange nor its Regulation Services Provider (as that term is defined in the policies of the TSX Venture Exchange) accepts responsibility for the adequacy or accuracy of this release.
---
See April 28, 2022, NI43-101 Report titled "National Instrument 43-101 Technical Report on the Cassiar Gold Property" by Zelligan, P.Geo, Moors, P.Geo, Jolette, P.Geo.
See 2006, Assessment Report on the Table Mountain and Taurus Property

, AR29235, Event Number: 4145387, prepared by Mike Glover.

See April 28, 2022, NI43-101 Report titled "National Instrument 43-101 Technical Report on the Cassiar Gold Property"

by Zelligan, P.Geo, Moors, P.Geo, Jolette, P.Geo.
To view the source version of this press release, please visit https://www.newsfilecorp.com/release/180178